Patrick Pickett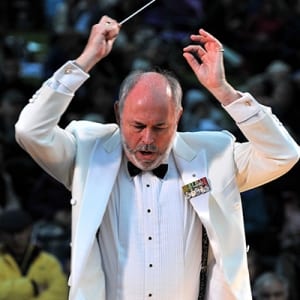 Patrick Pickett has been a leader, performer, conductor, artistic director, educator, fundraiser and business advisor within the arts in Australia and overseas for more than 40 years. His unique career sees him as a regular guest speaker within the arts community as well as a broad range of community organisations including Probus, Rotary, View Clubs and The Association of Australian Decorative and Fine Arts Societies.
After serving in the army for thirty-seven years, Patrick rose to the rank of Lieutenant Colonel Director of Music Army, Head of Corps of the Australian Army Band Corps and Commandant of the Defence Force School of Music. He performed in diverse places like Brunei, Malaysia, Japan, Gallipoli, East Timor, Bougainville and in amazing productions like the Edinburgh Military Tattoo.
In 2013 Patrick launched a new and innovative arts company in Queensland. The Australian Musicians and Orchestra Services (AMOS) has as its mission: to provide outstanding performance opportunities for Queensland's growing body of high level professional musicians.
Alongside this new business Patrick has become the owner, Artistic Director/Conductor of the Queensland Pops Orchestra. This iconic orchestra has been renowned for quality entertainment since it was formed by Colin Harper in the mid 80′s. Patrick has produced over 35 unique concerts with the Pops since 2013 to the delight of audiences old and new.