james morrison 2 056 small
_DSC0309_© Chrissy Maguire 2018
Barrier Reef Orchestra
For over 20 years, Townsville's community orchestra has drawn from the diversity of experience in North Queensland to gather gifted and talented musicians together to play orchestral music for the community. Conductors and players from all over Australia and overseas are keen to work with the orchestra and assist its development. In 2018 the Barrier Reef Orchestra partnered with Principal players from the Queensland Symphony and in 2019 AFCM's founding Artistic Director, Theodore Kuchar, returned to conduct a special programme.
The Barrrier Reef Orchestra is pleased to have the support of Bill Twedell, Chancellor of James Cook University, who has been the Patron of the orchestra since 2017. Mr Tweddell enjoyed a distinguished career in Australia's diplomatic service spanning four decades before returning to Townsville. More details can be read here.
2022 Concert Dates
Concert dates for 2022 have been finalised. Save the dates in your diary now!
More details about our exciting first concert for 2022 will be available soon.
Music and Community Book Launch
Jean Dartnall has written this book to commemorate the first 20 years of the Barrier Reef Orchestra. The book gives an insight into the range of pieces played and behind the scenes operations that make concerts possible. To see an extract from the book, click the image of the cover below.
The book is available for purchase at the Mary Who? bookshop at 414 Flinders Street in Townsville. Copies will also be available for purchase at our next concert. The book costs $25.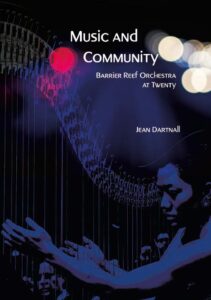 Become a Member
Interested in attending BRO concerts?
Interested in playing in the orchestra?
Find out the benefits of becoming a member…
Contact Us
Barrier Reef Orchestra
PO Box 576
Townsville QLD 4810
e: brotownsville@gmail.com
p: +61 7 4722 2789
Send us a Message
We'd love to hear from you.
---