BRO - Back in 2021
At Townsville Civic Theatre on 24th April 2021 at 7:30pm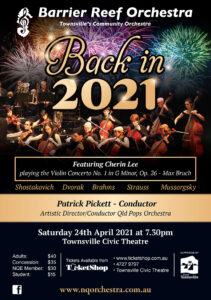 Join the Barrier Reef Orchestra as we retun to live performances in 2021!
The programme includes music from Shostakovich, Dvorak, Brahms, Strauss, and Mussorgsky. Featured artist Cherin Lee will play Bruch's Violin Concerto No. 1, one of the most popular pieces in the repertoire.
The orchestra will be conducted by Patrick Pickett, Artisitic Director / Conductor of the Queensland Pops Orchestra.
Featuring our guest conductor Patrick Pickett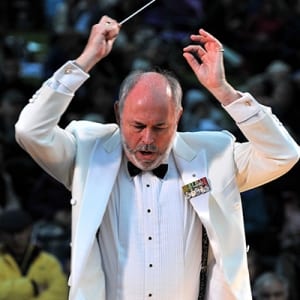 Patrick Pickett is owner, Artistic Director/Conductor of the Queensland Pops Orchestra. This iconic orchestra has been renowned for quality entertainment since it was formed by Colin Harper in the mid 80′s. Patrick is delighted to lead the Pops on the next phase of its artistic evolution.
Click on Patrick Pickett's photo to see the full biography.
Music Programme
Dmitri Shostakovich
Festive Overture in A major, Op. 96
Max Bruch
Violin Concerto No. 1 in G minor, Op. 26
George Frederick Handel
The Royal Fireworks Music

No. 1 Overture
No. 5 Allegro
La Rejouissance
Antonin Dvorak
Slavonic Dance No. 1 in C major, op. 46
Johannes Brahms
Johann Strauss
Tritsch-Tratsch Polka in A major, Op. 214
Modest Mussorgsky (orch. Ravel)
Pictures at an Exhibition

No. 9 Hut of the Baba Yaga
No. 10 Great Gate of Kiev
---
Concert Programme: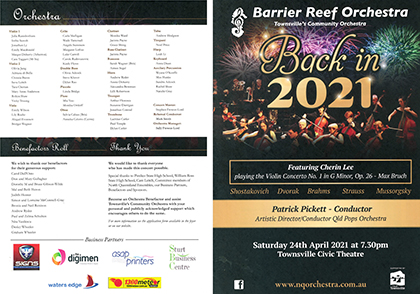 Click on the image above to view a PDF of the printed concert programme.
Photo Gallery
Photo Credit: Cam Leitch
---