Celtic Celebration
At Townsville Civic Theatre on 22nd October 2023 at 5:30pm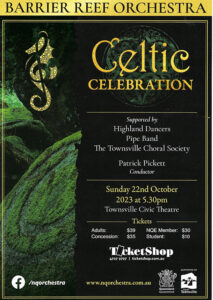 The Celtic Celebration concert was held in Townsville Civic Theatre on Sunday 22nd October. Guest Conductor Patrick Pickett swirled his baton as he worked the rich seam of Celtic classics in this celebration of Scottish and Irish traditions. The audience heard the legends, the fables, the humour, the melancholy and the euphoria, with special guests Gregory Moore and Sarah Calderwood combining the very best elements of Celtic music into one incredible package.
Showcasing his traditional Irish music talents was Kevin Higgins who played the concert wooden flute and the Uilleann Pipes.
Add The Townsville Choral Society, Highland Dancing and a Pipe Band and the concert was an unforgettable evening of Celtic music.
Featuring our guest conductor Patrick Pickett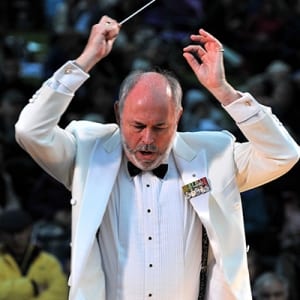 Patrick Pickett is owner, Artistic Director/Conductor of the Queensland Pops Orchestra. This iconic orchestra has been renowned for quality entertainment since it was formed by Colin Harper in the mid 80′s. Patrick is delighted to lead the Pops on the next phase of its artistic evolution.
Click on Patrick Pickett's photo to see the full biography.
Music Programme
Details of the music can be found in the printed programme displayed below.
---
Concert Programme: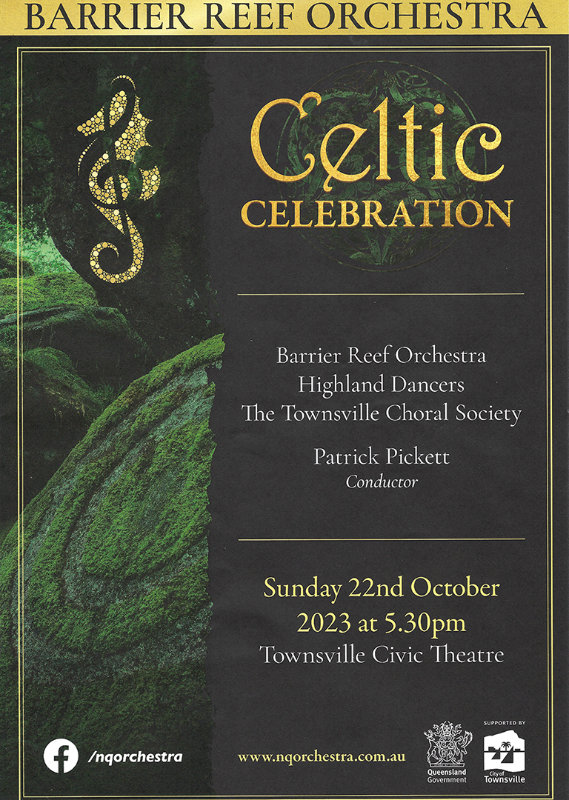 Click on the image above to view a PDF of the printed concert programme.
Concert Review:
A review of this concert can be viewed here.
---