Sean O'Boyle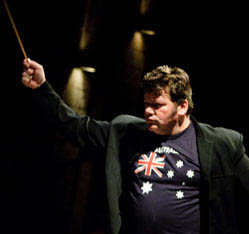 Sean O'Boyle is a composer, arranger and conductor with a particular interest in innovative works. He has conducted and/or recorded with many Australian orchestras, including the Adelaide, West Australian, Melbourne and Tasmanian Symphony Orchestras, and a number of distinguished European and British orchestras, such as the Berlin Philharmonic, Royal Philharmonic, BBC Symphony and BBC Concert Orchestras. His compositions have been performed or recorded by all the major Australian orchestras.
Sean was recognised as Honorary Artistic Advisor to BRO when these roles were created in 2005.
Sean has written, conducted, directed and collaborated with many contemporary artists. His particular contributions to the Barrier Reef Orchestra include raising the Orchestra to new heights in front of large and enthusiastic audiences, especially in the 'Last Night of the Proms' concerts. He has worked successfully with musicians in many genres of music and helps to bring them to Townsville as guest artists. (The James Morrison concert in 2007 is an outstanding example of this valuable relationship.).