Evening Serenade
At Townsville Civic Theatre on 28th October 2017 at 7:30pm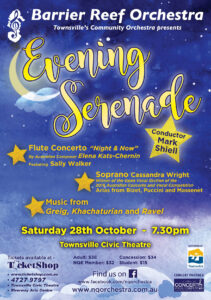 This concert was conducted by Mark Shiell from Melbourne. Mark has worked with the orchestra a number of times. The programme included a special new concerto, Night and Now, composed by Elena Kats-Chernin, one of Australia's most popular and esteemed composers. The piece is for flute and orchestra and was written for Australian flautist, Sally Walker who was a guest solist with the orchestra for this concert.
Also featuring on the programme was soprano, Cassandra Wright from Brisbane. Cassandra was the Open Vocal Winner at the 2016 Australian Concerto and Vocal Competition. She sang arias from Bizet, Puccini and others.
The concert also featured music from Greig, Khachaturian and Ravel.
---
Featuring our guest conductor Mark Shiell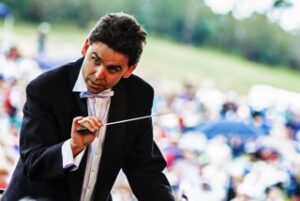 Mark has guest-conducted ensembles including the Melbourne Symphony Orchestra, West Australian Symphony, Moscow Symphony Orchestra, State Academic Symphony Orchestra of St. Petersburg, Victorian Opera, Orchestra Ensemble Kanazawa, Canberra Symphony Orchestra, Sydney Sinfonia, Melbourne Youth Orchestra, University of Melbourne Symphony Orchestra and the Orchestras of the State Music Camps in Melbourne and Adelaide. Currently he serves as Artistic Director and Principal Conductor of Zelman Symphony Orchestra, the Ballarat Symphony and the Macquarie Philharmonia...
Click on Mark Shiell's photo to see the full biography.
Music Programme
Mussorgsky
Ravel
Pavane for a Dead Princess
Bizet
Je dis que rien ne m'epouvante from Carmen
Soloist: Cassandra Wright
Massenet
Adieu, notre petite table from Manon
Soloist: Cassandra Wright
Marquez
Khachaturian
Puccini
Quando m'en vo from La Boheme
Soloist: Cassandra Wright
Bizet
Comme autrefois from The Pearl Fishers
Soloist: Cassandra Wright
Grieg
Kats-Chernin
Soloist: Sally Walker
Night and Now
was written in 2015 for flautist Sally Walker.
It is a Concerto in three movements and takes elements of the Russian personality and character as its starting point, as well as aspects of the flute itself. It draws very much on my own experiences as a child of that world, both aurally and from day to day life. Until I was 17, that was everything that I knew.
The timbre and sonorities of the flute itself offer much variation to the composer. It can be brilliant, shrill and scurrying, or whispering and mellow. The flute can draw sharp or soft lines. It can be rich, mystical, or virtuosic, penetrate in a fullsome sound or sigh into the texture.
Sally often hears sketches of my works as I am writing them and she has great insight into my processes. When Sally and I began to think about what a major work for flute and orchestra would sound like, we discussed all of these qualities and how to showcase the flute as a solo instrument and emphasize its unique sound and capabilities. Sally's sound is full bodied. It isn't a little flute which flies away – it has earth. That is Sally – how she is, very earthy and elf-like at the same time. That's what flute is, the way Sally plays it.
Sally also suggested to me that I might use stories from my early years in Russia, or from my own life as a template to the overall design of the composition. And so I did. The first movement is based on two imagined Russian fairy tales: one taking place deep in the woods – always a place of foreboding and unease (for this writer), but also promise, adventure and transformation. The other is in a silvery castle, impressively elaborate and bejeweled. A place of immersive succour and plenty. Two very different "nights".
The second movement is pressing and insistent in A minor, with counterpoint, a strong pulse and discipline. The opening motif is contrasted by a more romantic, starry-eyed melody in a completely different key (D flat major). One of my overriding memories of childhood in Russia is of lining up for hours and hours for one loaf of bread or piece of cheese, and the perseverance and sometimes ultimate disappointment that had to be faced when food just ran out. This was absolutely distinct from the wonder and open-mouthed joy my family would feel when we were able to get (greatly prized) oranges or strawberries. What a joy that was! Both of these extremes, abundance and lack of it, are embedded in this movement.
The third movement begins with an extended solo cadenza for the flute. Themes and fragments recur from the preceding material as the flute crosses further through the odyssey, eventually arriving at a Tarantella in C minor (one of my favourite dramatic keys). The Tarantella is a fast dance that often seeks to alter and remould the dancer in some way. In particular, I like the story of the Tarantella evolving from the agitated dance of the victim of a tarantula bite. The bitten would attempt to draw out the spider poison through vigourous and indefatigable movements, gestures and signs. Most Tarantellas are in 6/8 but mine is in 12/8. Perhaps there were two spiders?
Elena Kats-Chernin
---
Guest Artist: Cassandra Wright
Soprano
Cassandra Wright is a versatile soprano with diverse performance experience…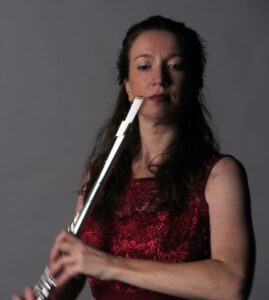 Guest Artist: Sally Walker
Flute
Flautist Sally Walker was Grand-finalist in the Leonardo de Lorenzo International Flute Competition (Italy), …
Concert Programme: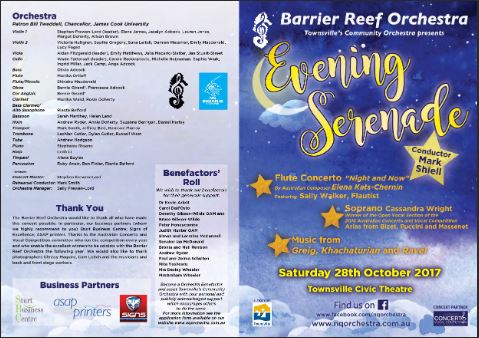 Click on the image above to view a PDF of the printed concert programme.
Concert Review:
A review of this concert can be viewed here.
Photo Gallery
Photo Credit: Steven Godbee
---