Music In March
At Townsville Civic Theatre on 11th March 2023 at 7:30pm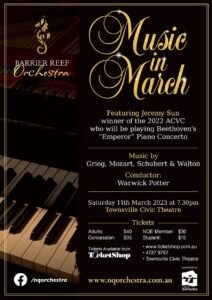 The concert featured Jeremy Sun, winner of the 2022 Australian Concerto and Vocal Competition, playing Beethoven's "Emperor" piano concerto.  There was also music by Grieg, Mozart, Schubert and Walton.
Featuring our guest conductor Warwick Potter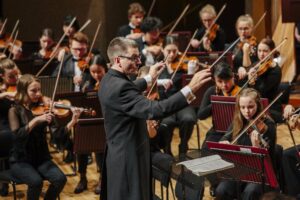 Dr Warwick Potter is one of Australia's leading conductors, equally at home directing a youth choir as he is a professional orchestra. He has conducted the Adelaide Symphony Orchestra, Canberra Symphony Orchestra, Darwin Symphony Orchestra, Queensland Symphony Orchestra, Tasmanian Symphony Orchestra, and West Australian Symphony Orchestra. In the community sector, he is particularly proud of his engagements with Willoughby Symphony Orchestra and Northern Rivers Symphony Orchestra. His numerous youth ensemble credits include Queensland Youth Orchestras, University of Queensland Symphony Orchestra, and Sussex Youth Chamber Orchestra. He has worked with WA Opera and WA Ballet companies.
Click on Warwick Potter's photo to see the full biography.
Music Programme
Wolfgang Amadeus Mozart
Overture: "Die Zauberflote", K.620
Ludwig van Beethoven
Piano Concerto No. 5 in E-flat major, Opus 73 ("Emperor")
Allegro
Adagio un poco mosso
Rondo: Allegro ma non troppo
Franz Schubert
Symphony No. 8 in B Minor, D.759 ("Unfinished")
Allegro moderato
Andante con moto
Edvard Grieg
Sigurd Jorsalfar: Three Orchestral Pieces, Opus 56
Vorspiel (In der Konigshalle) [Prelude (In the King's Hall]: Allegretto semplice
Intermezzo (Borhilds Traum) [Borghild's Dream]: Poco Andante
Hukligungsmarsch [Homage March]: Allegro moko
Sir William Walton
Crown Imperial Coronation March, C32
---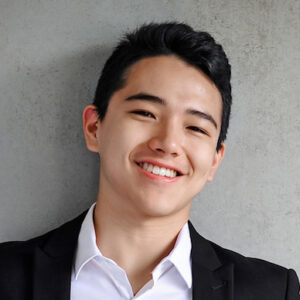 Guest Artist: Jeremy Sun
Piano
Pianist Jeremy Sun has won numerous international competitions along with major prizes in Australia such as first prize and Audience prize in both the 2022 Australian Concerto and Vocal Competition…
Concert Programme: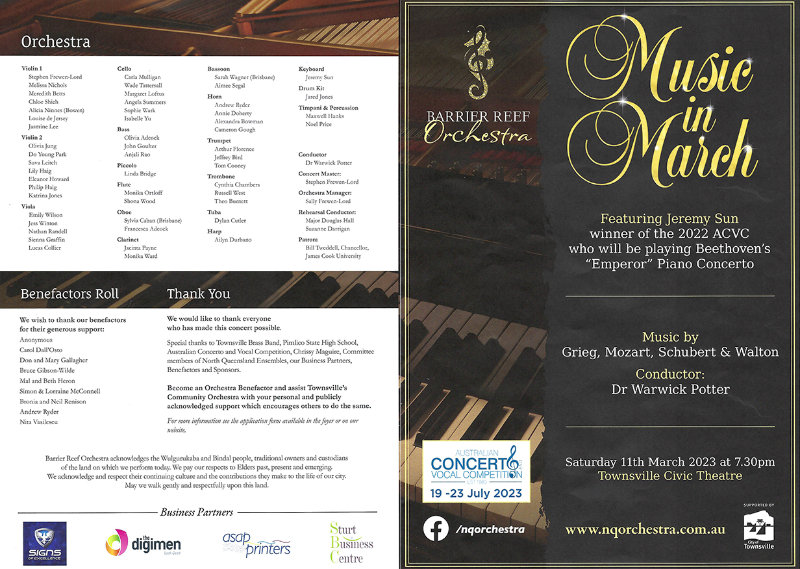 Click on the image above to view a PDF of the printed concert programme.
---