BRO Goes to the Opera
At Townsville Civic Theatre on 22nd October 2016 at 7:30pm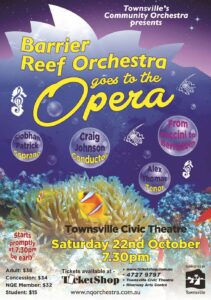 Barrier Reef Orchestra presents 'BRO Goes to the Opera', our final concert of the season!
We are delighted to introduce ex-Townsville soprano Siobhan Patrick all the way from Austria, who will be joined by well-known Townsville Tenor, Alex Thomas to deliver a program of beloved Opera classics.
The evening will include orchestral highlights from Mozart, Rossini and Verdi, as well as Opera and Musical Theatre favourites from Puccini to Bernstein, performed under the baton of Lieutenant Colonel Craig Johnson, Commanding Officer of the Defence Force School of Music in Melbourne.
Featuring our guest conductor Craig Johnson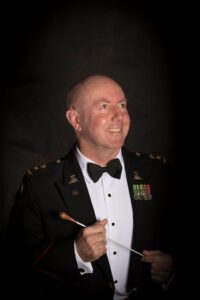 Lieutenant Colonel Craig Johnson, born and raised in Sydney, NSW, joined the Australian Regular Army as a musician in 1977. He subsequently served in Army bands in Sydney, Perth and Canberra before being selected to attend Army Band Officer training at the Defence Force School of Music in Melbourne. Upon graduation he was awarded the Commanding Officer's Prize for the Best Conductor of the Course. Since then, has served as Music Director of Army Bands Wagga, and Perth, and of the Royal Military College Band in Canberra. He is currently the Commanding Officer and Chief Instructor of the Defence Force School of Music in Melbourne. During his Army service, Craig has taken bands to Bougainville, East Timor, the Solomon Islands, Gallipoli and the UK. His deployment to East Timor in 1999 was a highlight, and included assisting in the arrangements for the "Tour of Duty" Concert in Dili - featuring John Farnham, Kylie Minogue, Doc Nieson and James Blundell - coordinating the impending Royal Military College Band tour, and forming and recording a 100 voice multi-national INTERFET choir from soldiers of the participating nations to accompany Jon Stevens at the 1999 Myer Music Bowl "Carols by Candlelight."...
Click on Craig Johnson's photo to see the full biography.
Music Programme
Verdi
Overture to La forza dei destino
Bellini
"Eccomi…O quante volte" from I Capuleti e I Montecchi (soprano)
Donizetti
Una furtive lagrima from L'elisir d'amore (tenor)
Puccini
Dvorak
Song to the Moon from Rusalka (soprano)
Mozart
Overture to The Marriage of Figaro
Rossini
Overture to The Barber of Seville
Schonberg & Boublil
Bring Him Home from Les Miserables (tenor)
Lehar
Meine Lippen, sie kussen so heib from Giuditta (soprano)
Mascagni
Intermezzo from Cavalleria Rusticana
Wildhorn & Bricusse
This is the Moment from Jeckyll & Hyde
Bernstein
Overture to West Side Story
Tonight from West Side Story (soprano and tenor)
Verdi
Libiamo ne' lieti calici from La Traviata (soprano and tenor)
---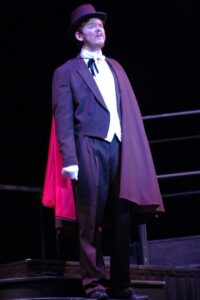 Guest Artist: Alex Thomas
Tenor
Alex Thomas has been performing in Townsville for more years than he would like to admit. He grew up locally and started in theatre in the Gang Show about 1985….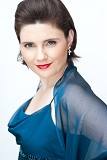 Guest Artist: Siobhan Patrick
Soprano
Siobhan is a lyric soprano with a Graduate Diploma of Music (Opera) from the Western Australian Academy of Performing Arts…
Concert Programme: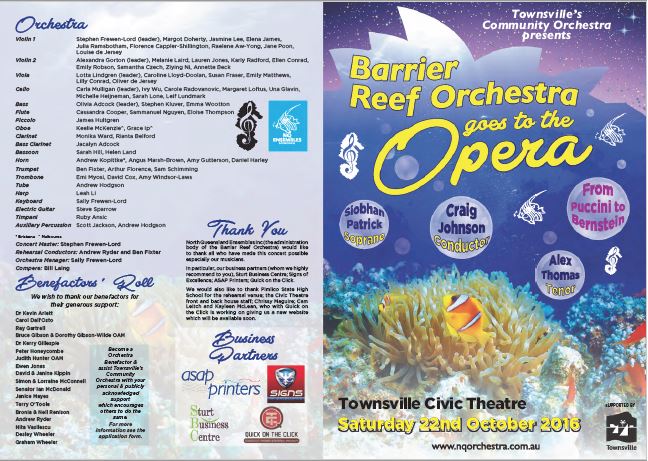 Click on the image above to view a PDF of the printed concert programme.
Concert Review:
A review of this concert can be viewed here.
---