Siobhan Patrick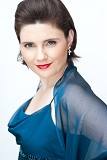 Siobhan is a lyric soprano with a Graduate Diploma of Music (Opera) from the Western Australian Academy of Performing Arts and further vocal studies in the UK, Italy and Austria. For the past 3.5 years, Siobhan has been living and working in Vienna.
Siobhan has performed lead roles across opera, oratorio and music theatre and has many years' experience as a performer of cabaret, jazz and folk music. She has been awarded numerous vocal prizes (including the Vocal Section of the Australian Concerto and Vocal Competition twice) and vocal grants from the Phonographic Performing Company of Australia and the Australia Council for the Arts. Siobhan has performed on a number of independent CDs, including a track that won Best Australian Song at the 2008 Australian Songwriting Awards.
In Vienna, Siobhan teaches singing and works as a freelance singer and musician. She is a guest soloist at the Reformierte Stadtkirche in the first district and performed in their program this year for Die Lange Nacht der Kirchen (The Long Night of the Churches). In November, Siobhan will perform her first full recital in Vienna, "Dein ist mein ganzes Herz", hosted by the Austro-American Society.
Siobhan grew up in Townsville and has a Bachelor of Science with Honours in Mathematics from James Cook University. At 13 years old, performing the role of "Louisa" in The Sound of Music for the Townsville Choral and Orchestral Society ignited her desire to be a professional performer.