Stefan Cassomenos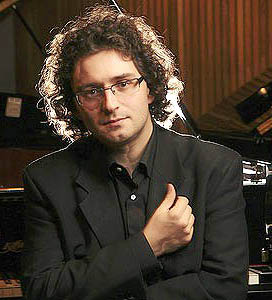 Melbourne pianist, conductor and composer Stefan Cassomenos gives regular solo recitals throughout Australia, and has appeared as a soloist in Europe and Asia.
In 2012 he was a grand finalist in the Rhodes International Piano Competition, and his recording of English and Australian art song with tenor Christopher Saunders was named the ABC Classic FM CD of the Week in September 2012.
He is well known for performances of chamber music and art song, and he was a grand finalist and prize-winner at both the Trieste International Chamber Music Competition and the Melbourne Asia-Pacific Chamber Music Competition in 2009. He was recently awarded the 2012 Young Achievement Award by the Hellenic Australian Chamber of Commerce and Industry.
The compositions of Stefan Cassomenos have been played by the Melbourne and Adelaide Symphony Orchestras.
He performed the premiere of his own first piano concerto with the Adelaide Symphony Orchestra at the age of 16, and directed the 2010 Melbourne Recital Centre premiere of his third piano concerto.
He has been artistic director of many festivals, projects and collaborations including the Melba Festival and Melbourne's Piano Landmarks festival.
He studied with Margarita Krupina and subsequently with Stephen McIntyre on scholarship at the University of Melbourne.