Megan Billing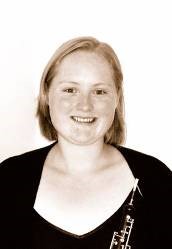 Born in Korumburra, Victoria, Megan studied music from an early age, first with the flute, later taking up the oboe at age 14. In 1998, with the help of the Australian National Academy of Music, she began lessons with oboist Eve Newsome. Megan completed a bachelor of music at the Victorian College of the Arts in Melbourne, after which she undertook 2 years of study in Zurich, Switzerland, in the class of Professor Thomas Indermuhle.
Megan has played for many Australian ensembles including the Melbourne Symphony orchestra and Orchestra Victoria. She has appeared as guest principal oboist with the Tasmanian Symphony Orchestra. Megan has also been a principal player of the Australian Youth Orchestra and a recipient of the Willem Van Otterloo travelling scholarship, the Melbourne Symphony Orchestra's Young Artists Award and an Australian Youth Orchestra opportunity grant.
Megan has a passion for education, and enjoys seeing the development of young up and coming oboe players. In 2006, She joined the teaching staff of the ANU. Megan is also the Acting Principal Oboe with the Canberra Symphony Orchestra and in July 2008 was a faculty member of the Sunwater and Stanhope Winter Music School in association with the Southern Cross Soloists.