Domenico Taraborrelli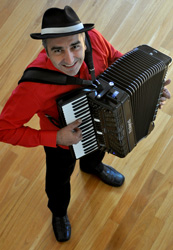 Domenico is one of Brisbane's most experienced and versatile multicultural entertainers. He has performed in almost every possible style since he commenced his musical career in 1971 at age 4. He studied music on the traditional European instrument called the Piano Accordion and this is still his chosen instrument, although he also now uses the latest electronic midi accordion which incorporates other built in instruments.
Domenico moved from three piece cabaret bands to a more sophisticated five piece band, the Latin Mafia which performs swing and Latin classics from the Rat Pack era.
He has performed in many venues from QPAC with the Queensland Pops Orchestra to being runners up with his Celtic Band, Murphy's Pigs at the Tamworth Golden Fiddle Awards.