David Hudson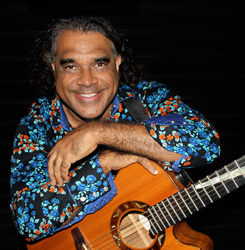 David Hudson is a proud Ewamian/Western Yalanji man of North East Qld. He is also an internationally renowned musician, composer, actor, artist and entertainer. In all these areas, his work comprises a combination of contemporary and traditional Aboriginal influences.
David was co-founder and choreographer of Tjapukai Aboriginal Cultural Park, Kuranda-Cairns in 1987, returning as General Manager from 2008-2012.
Performances in the corporate/convention and tourism areas have all been apart of David's extensive career. He is an accomplished inspirational guest speaker and delivers cross-cultural workshops too many and varied organisations and corporate arena's. Touring with Yanni (Greek Composer) and his orchestra has led him to many regions of the world such as the Taj Mahal India, Mexico, United States and the Forbidden City, China. David is a highly accomplished guitarist and drummer along with his recognised cultural instrument, the didgeridoo.
He has performed, promoted and travelled with Tourism Bodies with their promotions throughout Queensland, Australia and the world.
He is the recipient of an Honorary Tourism Ambassadors Award for Queensland and a Centenary Medal for services to Aboriginal and Torres Strait Islander Affairs for Reconciliation in Queensland. In 2014 David was recognised with an Honorary Doctorate from James Cook University, Cairns-Townsville recognising his contribution to art, music and culture.
2015 has taken David to Turkey, Italy, France and the United Kingdom with private and public performances and now brings him to Townsville