Suites & Treats
At Townsville Civic Theatre on 23rd October 2022 at 5:30pm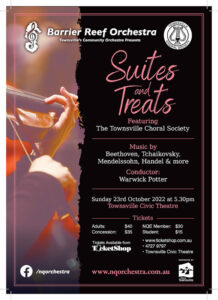 Featuring our guest conductor Warwick Potter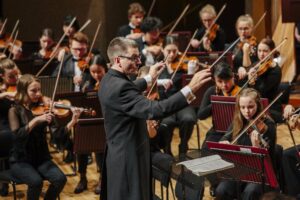 Dr Warwick Potter is one of Australia's leading conductors, equally at home directing a youth choir as he is a professional orchestra. He has conducted the Adelaide Symphony Orchestra, Canberra Symphony Orchestra, Darwin Symphony Orchestra, Queensland Symphony Orchestra, Tasmanian Symphony Orchestra, and West Australian Symphony Orchestra. In the community sector, he is particularly proud of his engagements with Willoughby Symphony Orchestra and Northern Rivers Symphony Orchestra. His numerous youth ensemble credits include Queensland Youth Orchestras, University of Queensland Symphony Orchestra, and Sussex Youth Chamber Orchestra. He has worked with WA Opera and WA Ballet companies.
Click on Warwick Potter's photo to see the full biography.
Music Programme
Ludwig van Beethoven
Pyotr Ilyich Tchaikovsky
Excerpts from Ballet Suites
Scene (Swan Lake, Op. 20a)
Danse des Cygnes (Swan Lake, Op. 20a)
Waltz (The Sleeping Beauty, Op. 66)
Danse Russe: Trepak (The Nutcracker, Op. 71a)
Danse Chinois (The Nutcracker, Op. 71a)
Danse Arabe (The Nutcracker, Op. 71a)
Danse des Mirlitons (The Nutcracker, Op. 71a)
Valse des Fleurs (The Nutcracker, Op. 71a)
Felix Mendelssohn
Overture: The Hebrides, Op. 26
Various Composers, Featuring the Townsville Choral Society conducted by Rachel Cairns
Zadok the Priest (George Frederick Handel)
The Ground (Ola Gjeilo)
Unclouded Day (Shawn Kirchner)
Hallelujah from Christ on the Mount of Olives, Op. 85 (Ludwig van Beethoven)
---
Concert Programme:
Click on the image above to view a PDF of the printed concert programme.
---