BRO Celebrates 21 Years
At Townsville Civic Theatre on 23rd October 2021 at 7:30pm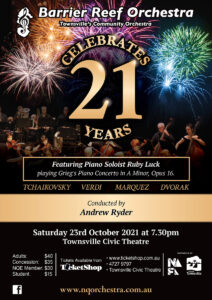 The Barrier Reef Orchestra celebrated 21 years of making music in Townsville in a concert featuring many popular pieces from previous concerts.
The orchestra was joined by members of the Townsville Choral Society for highlights from Les Miserables.
Featuring our guest conductor Andrew Ryder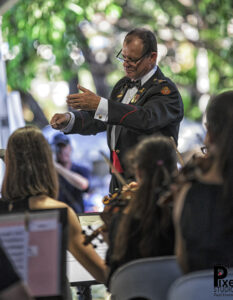 Andrew has conducted the Barrier Reef Orchestra for several concerts, including the Queens Gardens concerts in collaboration with AFCM, BRO goes to the Movies, World Music Concert celebrating Townsville 150 and a BRO children's concert featuring Peter and the Wolf. Andrew has also been rehearsal conductor for many concerts. When not on the conductors' podium, Andrew leads the BRO horn section.
Click on Andrew Ryder's photo to see the full biography.
Music Programme
Guiseppe Verdi
Overture to 'La Forza del Destino'
Edward Elgar
'Nimrod' from Enigma Variations, Op. 36
John Barry
Pyotr Ilyich Tchaikovsky
Symphony No. 5, Op. 64 – 2nd movt
Arturo Marquez
Emmanuel Sejourne
Concerto for Vibraphone and Strings – 1st movt (featuring Wyana O'Keeffe)
Leroy Anderson
The Typewriter (featuring Maxwell Hanks)
Claude-Michel Schonberg
Excerpts from 'Les Miserables' (featuring members of the Townsville Choral Society)
Antonin Dvorak
Symphony No. 9 in E minor 'From the New World', Op. 95 – 4th movt.
---
Concert Programme: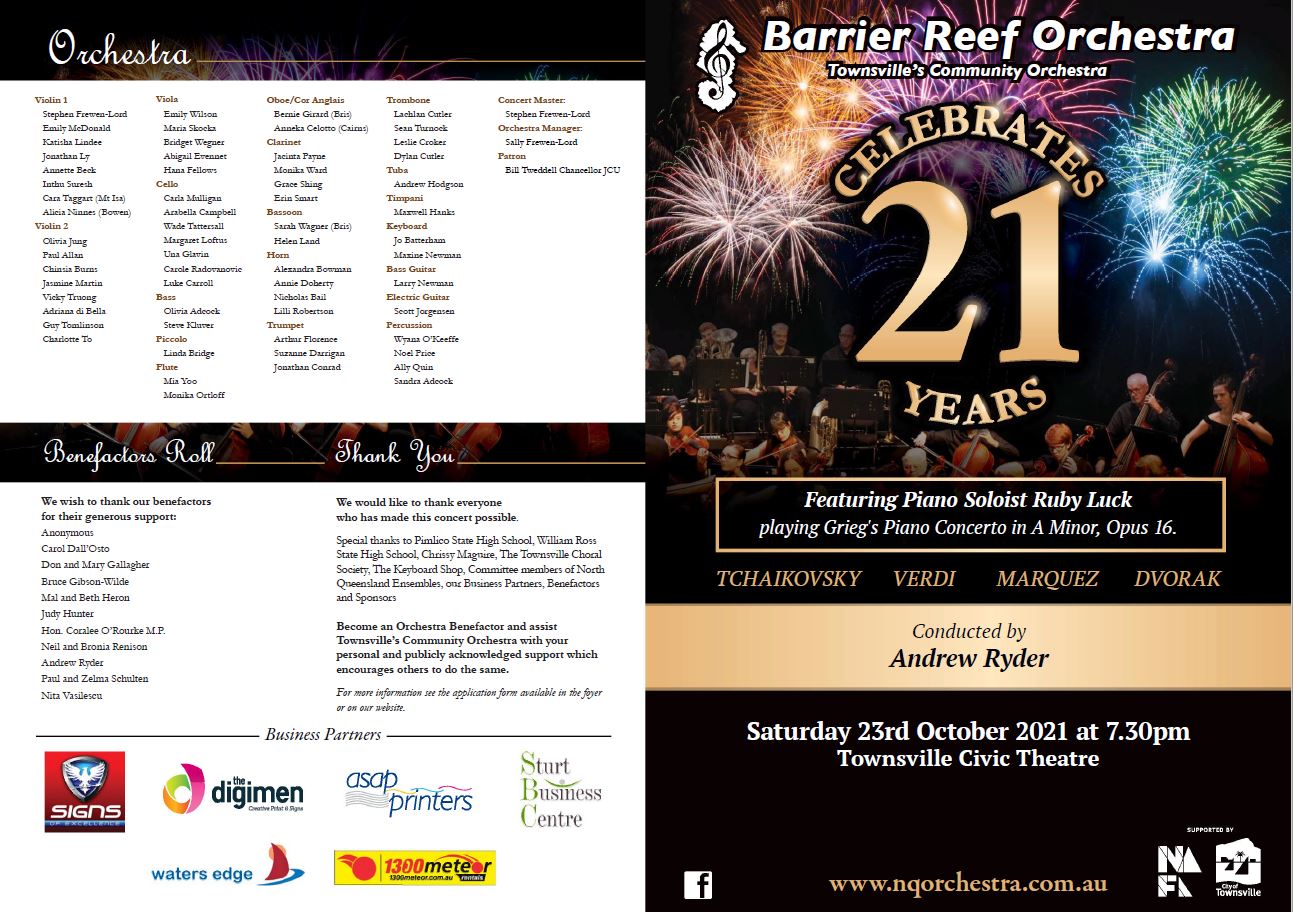 Click on the image above to view a PDF of the printed concert programme.
---