New Worlds
At Sir George Kneipp Auditorium (JCU) on 16th March 2019 at 7:30pm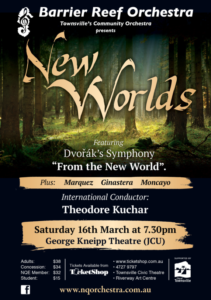 Featuring our guest conductor Theodore Kuchar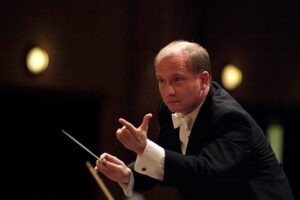 Theodore Kuchar hardly needs an introduction to Townsville audiences as he is one of our celebrated sons. He founded the Australian Festival of Chamber Music and was its Artistic Director for 17 years. The Townsville City Council together with AFCM established the annual Theodore Kuchar Music Scholarship in recognition of his contribution to the development and enhanceent of this city's cultural identity. Multiple award-winning conductor Theodore Kuchar is one of the most recorded conductor of his generation and appears on over 130 compact discs for the Naxos, Brilliant Classics, Ondine, Marco Polo and Toccata Classics labels. Having recently accepted the positions as Principal Conductor of the Ukrainian Festival Orchestra and Principal Guest Conductor of the Ukrainian National Opera and Ballet in Lviv he has served as the Artistic Director and Principal Conductor of two of Europe's leading orchestras, the National Symphony Orchestra of Ukraine and the Janacek Philharmonic Orchestra (formerly the Czech Radio Orchestra) while also serving as the Principal Conductor of the Slovak National Symphony Orchestra and Slovak Sinfonietta...
Click on Theodore Kuchar's photo to see the full biography.
Music Programme
Antonín Dvořák
Symphony in E Minor (No. 5, Op. 95) "From The New World"
Adagio – Allegro molto
Largo
Scherzo
Allegro con fuoco
Alberto Ginastera
Suite from Estancia, dance suite from the ballet, Op. 8a
Part 1: Los trabajadores agricolas (The land workers)
Part 4: Danza final (Malabo)
Jose Pablo Moncayo
Arturo Marquez
Danzón No. 2 for Orchestra
---
Concert Programme: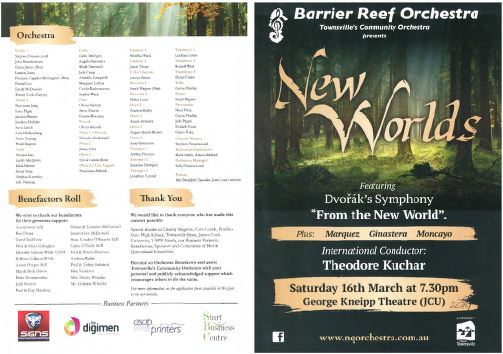 Click on the image above to view a PDF of the printed concert programme.
Concert Review:
A review of this concert can be viewed here.