Last Night At The Proms
At Townsville Civic Theatre on 1st November 2014 at 7:30pm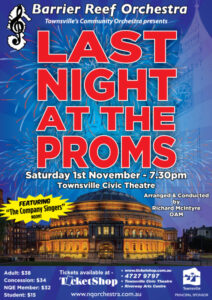 The Proms, more formally known as The BBC Proms or The Henry Wood Promenade Concerts, was founded in 1895 and is presented by the BBC over an eight-week summer season of daily orchestral classical music concerts and other events. The Proms series of concerts is held annually and currently consists of more than 70 concerts in the Albert Hall, a series of chamber concerts at Cadogan Hall, additional Proms in the Park events across the United Kingdom on the last night, and associated educational and children's events.
Many people's perception of the Proms is taken from the Last Night, although this concert is very different from the others. It usually takes place on the second Saturday in September. The concert is traditionally in a lighter, 'winding-down' vein, with popular classics being followed by a series of British patriotic pieces in the second half of the concert.
Featuring The Company Singers – North Queensland Opera and Music Theatre Company.
Featuring our guest conductor Richard McIntyre OAM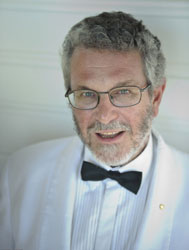 Richard McIntyre, OAM, BMus (University of Sydney) has maintained a long and distinguished career as bassoonist, music educator, conductor and arranger. A Composition graduate from Sydney University, he was appointed Associate Principal Bassoon with the Sydney Symphony Orchestra as a 20-year-old in 1968, moving to The Canberra School of Music as a foundation member of the Canberra Wind Soloists in 1978. With this renowned quintet, he recorded and toured internationally during a 30-year period, and gave it a unique repertoire with his virtuoso arrangements of large-scale orchestral works. He was for many years Principal Bassoon with the Australian Chamber Orchestra, and appeared on many occasions as guest Principal Bassoon with most of the Symphony Australia Orchestras - also as concerto soloist, and independently as a recitalist.
Click on Richard McIntyre OAM's photo to see the full biography.
Music Programme
Ralph Vaughan Williams
Overture to The Wasps
English Folk Song Suite
March: Seventeen come Sunday
Intermezzo: My Bony Boy
March: Folk Songs from Somerset
Cantata: In Windsor Forest (from Sir John In Love)
The Conspiracy
Drinking Song
Falstaff and the Fairies
Wedding Chorus
Epilogue
George Frideric Handel
Excerpts: The Messiah
Overture
Recitative: Comfort ye my people
Air: Ev'ry valley shall be exalted
Chorus: And the glory of the lord
Recitative: Then shall the eyes of the blind be opened
Air: He shall feed his flock like a shepherd
Chorus: All we like sheep have gone astray
Chorus: Hellelujah!
Ralph Vaughn Williams
March Past of the Kitchen Utensils from The Wasps
Sir Edward Elgar
Pomp and Circumstance March No. 1
Charles H. H. Parry
Thomas Arne (arr. Sir Malcolm Sargent)
Michael Hurst
---
Concert Programme: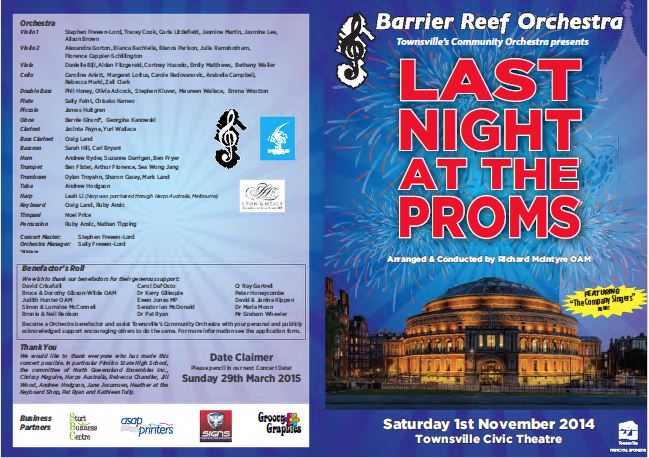 Click on the image above to view a PDF of the printed concert programme.
---