Tchaikovsky
At Sir George Kneipp Auditorium (JCU) on 14th July 2019 at 4:00pm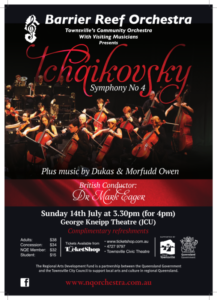 Featuring our guest conductor Mark Eager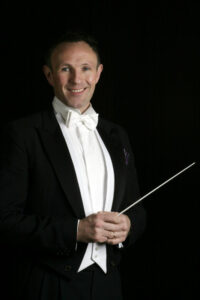 Mark Eager is an exciting and passionate conductor with extensive knowledge in the orchestral field. Underpinning this is his 25+ years of experience as a world-class soloist and orchestral player, predominantly for the BBC but also with most major UK orchestras. Mark tours extensively worldwide as a guest conductor and master-class consultant. During this time Mark played the world premières of Trombone concerti by Françaix, Pickard and Hoddinott for BBC Radio 3, the latter two being commissioned for him. Mark is Conductor Emeritus of The Welsh Sinfonia and as well as championing traditional classical repertoire, Mark commissions and premières new repertoire by today's foremost British composers.
Click on Mark Eager's photo to see the full biography.
Music Programme
Paul Dukas
Fanfare From the Ballet La Péri
Morfydd Llwyn Owen
Pyotr Ilyich Tchaikovsky
Symphony No. 4 in F minor, Op. 36
Andante sostenuto – Moderato con anima
Andantino in modo di canzona
Scherzo. Pizzicato ostinato. Allegro
Finale. Allegro con fuoco
---
Concert Programme: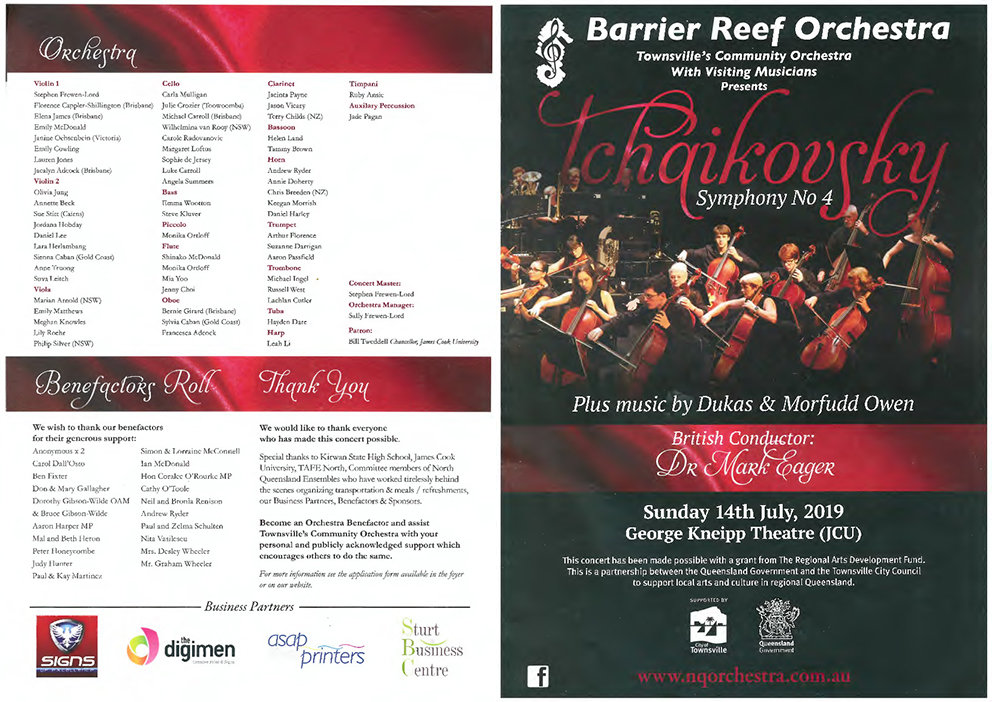 Click on the image above to view a PDF of the printed concert programme.
Concert Review:
A review of this concert can be viewed here.
---