Let's Dance
At Townsville Civic Theatre on 26th October 2019 at 7:30pm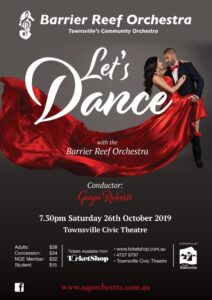 Let's Dance with the Barrier Reef Orchestra was our final concert for 2019. Conductor Gwyn Roberts from Brisbane, who for several years was the conductor for the AFCM Winter School, led an exciting evening of toe-tapping music from composers including Rachmaninov, Gershwin and Piazzolla.
Featuring our guest conductor Gwyn Roberts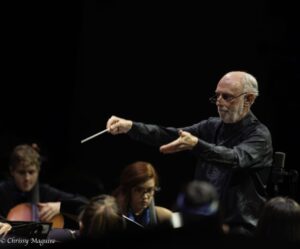 Gwyn Roberts has had a very active career as a cellist, conductor and music educator. He was Musical Director of the Queensland University Symphony Orchestra for 25 years, and Senior Lecturer in the School of Music. His varied career as a cellist has seen him play principal cello with many symphony and chamber orchestras.
Click on Gwyn Roberts's photo to see the full biography.
Music Programme
J. S. Bach
Gigue (from Orchestral Suite in D major)
Georges Bizet
Soloist: Alice Beans
Featuring: Tango Craze
Sergei Rachmaninov
Asto Piazzolla (arr. Jim Palmer)
Featuring: Tango Craze
Manuel de Falla
Miller's Dance (from The Three-Cornered Hat)
Soloist: Jenni Flemming (Brisbane)
Maurice Ravel
Piano Concerto in G major (2nd movement)
Asto Piazzolla (arr. Jose Bragato)
Featuring: Tango Craze, Jenni Flemming, Stephen Frewen-Lord & Gwyn Roberts
Alexander Borodin
Polovstian Dances (from Prince Igor)
Asto Piazzolla (arr. Lito Valle)
Bill Whelan (arr. Deirdre Foyster)
Soloist: Alice Beams
Featuring: Chelsea Pettgrew, Teya Moseley & Ivy Paxton
---
Concert Programme: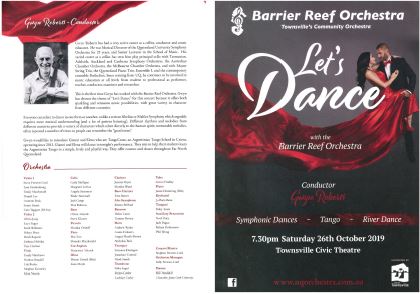 Click on the image above to view a PDF of the printed concert programme.
Concert Review:
A review of this concert can be viewed here.
---