AFCM Concert in the Park 2019
At Queens Gardens on 28th July 2019 at 3:00pm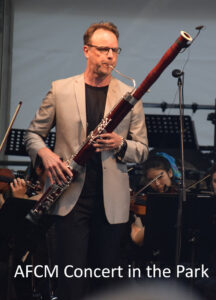 The AFCM Concert in Queens Gardens was co-presented by the Australian Festival of Chamber Music and the City of Townsville as part of the North Australia Festival of the Arts.
Featuring our guest conductor Andrew Ryder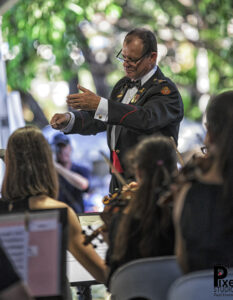 Andrew has conducted the Barrier Reef Orchestra for several concerts, including the Queens Gardens concerts in collaboration with AFCM, BRO goes to the Movies, World Music Concert celebrating Townsville 150 and a BRO children's concert featuring Peter and the Wolf. Andrew has also been rehearsal conductor for many concerts. When not on the conductors' podium, Andrew leads the BRO horn section.
Click on Andrew Ryder's photo to see the full biography.
Music Programme
Yanni
Jonathon Peh
Piazzolla (arr. Martin Kuuskmann)
Oblivion (with Martin Kuuskmann on bassoon)
Jobim (arr. Jovino Santos Neto)
Watching you with my heart (with Martin Kuuskmann on bassoon)
Leonard Bernstein
Somewhere (with Lotte Betts-Dean, mezzo-soprano)
Ross Parker & Charlie Hughes
We'll Meet Again (with Lotte Betts-Dean, mezzo-soprano)
Morricone (arr. James Barclay)
Libertango (with Amy Dickson on saxophone)
1RAR Band Showcase
Rossini
---
Concert Review:
A review of this concert can be viewed here.
---