AFCM Concert in the Park 2017
At Queens Gardens on 30th July 2017 at 3:00pm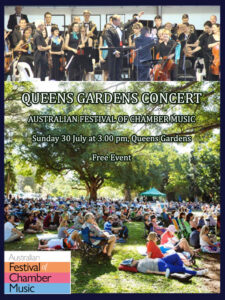 Music Programme
Co-presented by Townsville City Council, this hugely popular garden concert has become a firm favourite on the events calendar for locals and visitors alike.
Set in the leafy grounds of Queens Park, this 90 minute concert provides audiences with a variety of entertainment – not all of it chamber music. Visiting Festival artists will be joined by local talent including the Barrier Reef Orchestra and the 1RAR band.
The program includes Cheryl Barker and Peter Coleman-Wright performing arias from the operas Carmen and Tosca and, fast becoming a tradition, Tchaikovsky's explosive 1812 Overture.
---
Concert Review:
A review of this concert can be viewed here.