AFCM Concert in the Park 2016
At Queens Gardens on 31st July 2016 at 3:00pm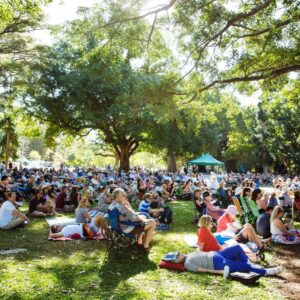 Last year was such a resounding success the AFCM had to repeat this wonderful afternoon of music in the park.
Co-presented by Townsville City Council and in celebration of the 150th Anniversary of the municipality of Townsville, the program includes Vivaldi's Spring from The Four Seasons performed by the effervescent British violinist Tasmin Little and soprano Valda Wilson, appearances by local groups the Barrier Reef Orchestra and 1RAR band, and will finish with the audience 'firing the cannons' in Tchaikovsky's 1812 Overture!
Music Programme
Franz von Suppe
Antonio Vivaldi
The Four Seasons, Spring.
Soloist: Tasmin Little (violin)
David Salisbury
Symphony No. 1 Townsville Views II Queens Gardens
Leo Delibes
Soloist: Valda Wilson (soprano)
John Williams
Theme from Schindler's List.
Soloist: Tasmin Little (Violin)
Giuseppe Verdi
E strano! Sempre libera from La Traviata.
Soloist: Valda Wilson (violin)
Peter Tchaikovsky
The Year 1812 – Festival Overture Op 49 (with audience participation instead of cannon fire.)
---