T150 Let's Celebrate
At Townsville Civic Theatre on 2nd April 2016 at 7:30pm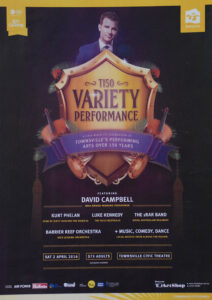 The concert was part of Townsville's 150th anniversary celebrations. It featured a variety of homegrown talent, including ARIA Award-winning performer David Campbell, Dirty Dancing musical star Kurt Phelan, The Voice Australia's Luke Kennedy and many more.
The soundtrack to the evening was music performed by about 50 musicians made up of the Band of the First Battalion Royal Australian Regiment (1RAR) and the Barrier Reef Orchestra.
Barrier Reef Orchestra are proud to have been chosen to perform at this event celebrating 150 years of Townsville cultural Life.
We performed with Bronwyn Douglass as our Special Guest artist. Bronwyn last year won the 2015 Australian Concerto & Vocal Competition Open Vocal Section, and as part of that award she sang with us at the T150 Concert.
Music Programme
Lets face the music and dance/I got rhythm (Kurt Phelan)
This is the moment (Luke Kennedy)
The Prayer (Luke Kennedy and Jade O'Halloran)
I could have danced all night
Wishing you were somehow here again (Greta Sherriff)
Delovely (Kurt Phelan and Greta Sherriff)
Brahms: Hungarian Dance No. 5 (Barrier Reef Orchestra
Saint-Saens: Mon Coeur, from Samson et Dalila (Bronwyn Douglas)
Bizet: Habanera from Carmen (Bronwyn Douglas)
Skyfall (1RAR Band soloist Jade O'Halloran)
When I get my name in lights
Luck be a lady
Hello Dolly
You'll never walk alone (David Campbell)
Someone to fall back on (Kurt Phelan)
Can't buy me love
Skin and Scars
Time to say goodbye (Luke Kennedy)
Beyond the sea
Mack the knife
All the way
Perhaps perhaps perhaps
Danke schoen
That old black magic
King of the Road
That's life
Shout (David Campbell)
Les Miserables medley (Townsville Choral Society and NQOMT combined ensembles)
---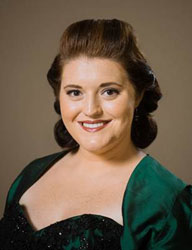 Guest Artist: Bronwyn Douglass
Mezzo-Soprano
Bronwyn is a mezzo-soprano who is currently the holder of the Amelia Joscelyne Memorial Schoarship with the Dame Nellie Melba Trust…
Concert Review:
A review of this concert can be viewed here.
---